Pointe Coupee Parish Library Director & Library Staff
Pointe Coupee Parish Library Staff Branch Managers
Innis Branch
Bennie Rice
Julian Poydras Branch
Debbie Soileau
Morganza Branch
Dana Bergeron
Livonia Branch
Roye Chenevert
New Roads Branch
Kevin Darensbourg
Head of Technical Services
Tiffany Brue
Pointe Coupee Parish Library Director
Melissa Hymel started her career with a master's degree in Master of Library Information Sciences in 1988 from Louisiana State University. From there, she worked in several libraries as branch manager, head librarian, and in various departments. Now she is Pointe Coupee Parish's Library Director and has put a lot of effort into the library to make it what it is today.
On January 1, 1993, Melissa became Director of Pointe Coupee Parish Library. With passion and a lot of hard work and dedication, Melissa spent every day growing the Pointe Coupee Parish Library into one of the most successful libraries in the State of Louisiana.
Melissa constructed new library facilities in both the Innis and Livonia communities as well as expanded all five locations. She fought for funding and received over $12 million in grant funding to update the public library system. As a result, in 2016, she automated the entire library system and overhauled the computer systems.
Melissa did far more than expand facilities and revamp outdated structures. She also strived to improve the library's services to its communities. She initiated the adult programming service, the Historical Materials Collection, and enhanced other services and performances by hiring a full-time Children's Librarian. She even brought the library to citizens who couldn't physically come into the facility with outreach services to nursing facilities, assisted-living facilities, childcare centers, and homebound individuals. Thanks to Melissa's expansions, no community member is left without the library's benefits.
Today, Melissa continues to organize the Annual Food Drive for the local Food Pantry called Food for Friends. She has been responsible for this community support service since she started it in 1993. She is also an original member of the Tri-Parish Consortium with Iberville, West Baton Rouge, and Pointe Coupee Parish Libraries for shared electronic materials collection to expand options for citizens within each area.
Melissa continues to collaborate with LSU AgCenter and Pointe Coupee General Hospital to assist in healthcare and outreach services. She also collaborates regularly with the Pointe Coupee Parish Sheriff's Office to provide and share critical safety and emergency response information and resources with the general public.
Thanks to Melissa's efforts and her continuing dedication, the communities can enjoy all the library has to offer.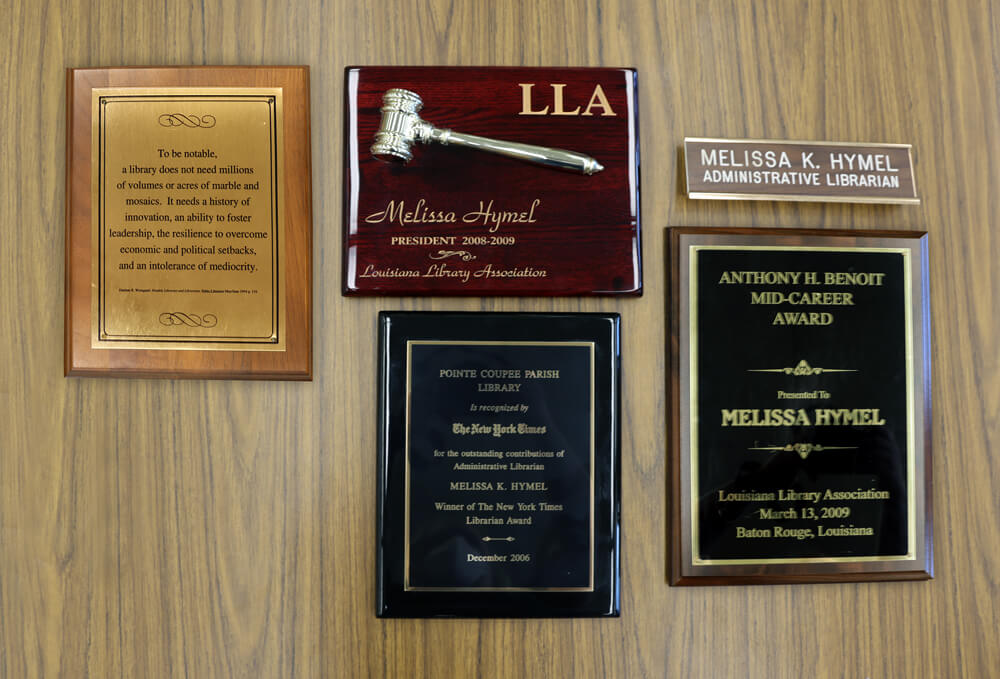 2006 New York Times Librarian of the Year Award
2007 Fall Commencement Speaker for LSU SLIS Graduation
2008/2009 Louisiana Library Association President
2009 Anthony Benoit Mid-Career Award for Excellence in Librarianship both on local, state and national levels
2018 City of New Roads Mayor's Impact Award recipient